It is in celebrating our commonalities, our differences and our individuality that we can prosper together and give back!
It's a celebration, not a fight. In acknowledging how we are different, how we are unique and in those ways that we are the same, we can support each other, appreciate each other and prosper through respect and diversity. Perhaps it's time to question the archetype and get to know who we are as genders and individuals.
Time: 8.30am – 12.30pm
Location: Baker Mckenzie 14th Floor, Hutchison House, 10 Harcourt Road, Central, Hong Kong
After attending many wonderful events in Hong Kong (and many with a hefty price tag), it was thought, why not bring large organisations together, pool resources and organise an event for the corporate world that will provide value to attendees but also give back? Give back to women who perhaps feel like they don't have as many opportunities as those that will attend the event and so…'A Celebration of Women in the Workplace' was born.
Time
Agenda Item
Speakers
8.30am
Coffee and networking time. Seated by 8.50am
NA
9- 9.20am
Opening address

Louise Corbett, Head of Marketing Communications Asia Pacific, AIG

Angelina Kwan, Managing Director – Foundation Hong Kong Exchanges and Clearing Limited (HKEX)

9.20 - 9.40am

First speaker – A look at the research: Insights from the Oliver Wyman, Women in Financial Services 2016 Annual Report

Angelina will share insights from the Oliver Wyman, Women in Financial Services 2016 Annual Report. One phenomena Angelina will address is 'Career conflict'. Research has shown that between the ages of 30-50 a women's willingness to make sacrifices in her private life drops significantly to that of men. At this time in their lives, women are voting with their feet. The corporate world is starting to wake up to this and look at ways to respond in order to retain female talent.

Angelina Grass-Oguma: Partner, Oliver Wyman
9.40 - 9.50am
A letter to my younger self: A powerful exercise for reflection and take time for the lessons we have learnt in life. Listen to three senior managers as they reflect and share their personal letters.
Brian Henderson: Chief Operating Officer, Baker Mckenzie
9.50 - 10.20am

Second Panel – A letter to my younger self: Making Decisions, accepting set backs, embracing opportunities and opening new doors of possibility…

"Choose what's most important to you and your family and focus on that. Instead of striving for 'perfection', we should aim for lives that are sustainable and fulfilling." - Sheryl Sandberg

A letter to my younger self:

This panel will share personal experiences from their careers and personal lives, facilitating an intimate environment for in-depth discussion.

Chair: Louise Corbett, Head of Marketing Communications Asia Pacific, AIG

Emma Dale: Co-Founder and Managing Director of Prospect Resourcing.

Anna Thompson: Director Flight Operations at Cathay Pacific Airways

Brian Henderson: Chief Operating Officer, Baker Mckenzie

Natalie Ackerman: EVP Greater China – Jack Morton

10.20 - 10.40am
20 minute toilet/tea break
 
10.40 - 11am

Second Speaker – Finding Me:
Who are you without your title, cultural expectations and your role as a mother/wife/daughter?

What is Self-awareness? Is Self-care really that important and why do we need it? What Mental Health issues are women facing these days and could getting in touch with 'you' help to alleviate them?

Zoë Fortune, PhD. CEO at City Mental Health Alliance.
11 - 11.30am
Panel 2: Knowing my value, communicating it and using it to take me forward.

Chair: Zoë Fortune, PhD. CEO at City Mental Health Alliance.

Janine Manning Director, Roar Coaching

Lisa Foley –Managing Partner and Chief Operating Officer for Brunswick, Asia



Brenda Alegre –Psychologist, Lecturer at HKU and activist.

Angelina Kwan, Managing Director – Foundation Hong Kong Exchanges and Clearing Limited (HKEX)

 

11.30 - 11.50am

Third Speaker – Questioning the archetype of a leader and looking at the role of men.

What is a leader? What behavioral traits do they encompass? What are their skills? What past experience do they have? Are the leadership archetypes of the past still applicable to the 21st Century and beyond or is it time to define what makes a leader? So often 'Executive Presence' is defined by typically male behavior traits. Perhaps it's time to question the archetype and rewrite the 'code'.

Clarence will also touch on the Role of Men. As a male ally for The Womens Foundation (TWF), Clarence addresses the role of men in highlighting the strengths of women and supporting their career goals. 

Clarence Yang, Director – Blackrock
11.50 - 12.20pm

Final Panel: What women bring to the world of business…

What has been your experience with female employees over your career? Do you find that the archetype of a 'leader' is changing?
What are the key strengths that you believe a woman can bring an organization? 

Chair: Clarence Yang, Director – Blackrock

Rudi Spaan – CEO, American International Group (AIG).



Lucy Werner –Google, Industry Leader Finance and Travel

Anna-Marie Slot, Partner – Ashurst.

12.20 - 12.30pm
Closing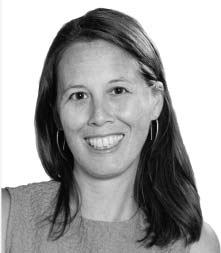 Natalie Ackerman
EVP Greater China – Jack Morton

Natalie is a seasoned executive with over 20 years experience in the events and brand experience space. With over 15 years at Jack Morton Worldwide she leads the Hong Kong and China operations as EVP Greater China, and sits on the Jack Morton executive team. In addition, Natalie leads Jack Morton's global diversity and inclusion strategy and efforts.
She is recognised for delivering strong business results and vision, inspiring and managing teams and bringing out the strength of staff across disciplines in a collaborative and supportive environment. She excels at building reliable, solid and future-oriented partnerships with clients. 
Before joining Jack Morton, Natalie produced television, live sports and experiential events for many years, including working at the 2000 Sydney Olympic and Paralympic Games.   
Born in Australia and raised in Hong Kong, Natalie brings a global approach and outlook with extensive international experience having worked in major cities around the world including London, New York, San Francisco, Sydney and Hong Kong.  Outside of work, Natalie is married with three children and spends time adventuring with them and exploring the world.
Natalie holds a Bachelor of Science degree in Psychology from the University of Bristol.
Brenda Alegre
Psychologist, Lecturer at HKU and activist
Brenda Rodriguez Alegre is a Registered Psychologist. She studied at the University of Santo Tomas, Philippines where she completed her PhD in Psychology with Magna Cum Laude honors. Her MA thesis and PhD dissertation were about transgender women. She is currently among the Board of Directors of STRAP or The Society of Transsexual Women Advocates of the Philippines which is the first and longest existing support and advocacy group for and of transgender women She is also one of the Trans Secretariat of ILGA. She is a Resident Tutor at Lap Chee College, University of Hong Kong, and Lecturer at the University of Hong Kong where she teaches Sexuality and Gender. She has upcoming publications on transgender people's experiences. She is active in rights advocacies for LGBTQI and women in the Philippines and Hong Kong. She was featured as an expert in TV and radio news and programs. She has also written articles and has appeared as a subject matter expert in media publications. She has been an esteemed guest speaker in some Philippine and Hong Kong Universities. Prior to teaching, she worked in human resources. She is a choir soprano in The Harmonics, an LGBTQIA choir in Hong Kong. She's nominated for 2018 LGBT + Public Champion in Hong Kong.
Email: brendara@hku.hk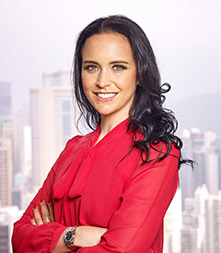 Louise Corbett
Head of Marketing Communication, Asia Pacific 
AIG
Louise is the Head of Marketing Communication, Asia Pacific at AIG. In her role she is responsible consumer and commercial product communications, the AIG Corporate Brand and Thought Leadership initiatives throughout the Asia Pacific region. Louise has worked in Financial Services throughout her career, starting with Insurance Australia Group (IAG) in Sydney, Louise then moved to the Middle East to continue her career in 2009 for 3.5 years. Louise has been with AIG for 6 years now joining AIG Singapore in 2012 as the Head of Corporate Communications and in 2014, Louise relocated to Hong Kong with AIG to take on her current regional role.
Louise holds a Bachelor of Commerce degree with majors in Marketing and Management from the University of Sydney.
The Empowerment of Women is a lifelong mission for Louise. Louise established 'Women Empowered (WE)' in May 2017. WE is a global community of women with a focus on the three main pillars of the Financial, Physical and Emotional empowerment. WE was created to reach as many women all over the world as possible and help them to understand that 'all women have options'.
'Women Empowered' is focused on supporting, encouraging and nurturing women to come together and  support each other. The Empowerment of Women is not a man's job. Men can certainly support the effort but when we look to men to solve this for us, it makes us victims. Women first need to come together to identify the unique gifts we can bring the world (of which there are many), celebrate them and then…stand together to confidently bring them forward to collaborate with men.'
Louise believes that this approach is empowering for all and is centered around a celebration for the beautiful (and important) differences between genders.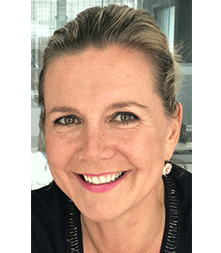 Emma Dale
Co-Founder and Managing Director (Asia)
Prospect
Emma Dale is Co-Founder and Managing Director (Asia) at Prospect and has specialised in PR and corporate communications recruitment for over 20 years. She set up Prospect with Colette Brown in 2002 and in 2009 Emma set up Prospect's Asia operation in Hong Kong and Singapore. She specialises at a senior level and recruits for communications consultancies as well as MNC's, working on roles within internal & external communications, social media & digital, government relations and marketing across all industry sectors.
Emma is dedicated to diversity and equality in the workplace and challenging the status quo. As such, she is an active member of The Hong Kong Women's Foundation, mentoring and emboldening women of all ages and industries to become leaders in their field.
Emma is also a certified coach with the Institute of Executive Coaching & Leadership (IECL) and the Founder of Transform Executive Coaching. Drawing on her experience as a successful business leader, Emma coaches managers and leaders across all industries from financial services to luxury brand marketing. She is regularly engaged by Multinational Corporations to coach high-performing individuals on leadership development. In addition she coaches individuals stuck in a rut and looking for their next career path.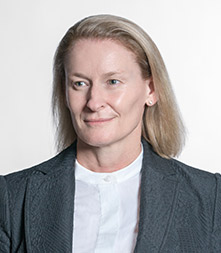 Lisa Foley
Brunswick
Lisa Foley has spent most of her thirty-year career working in Greater China and the majority of her roles have been Asia regional and based from Hong Kong. 
Prior to joining Brunswick, Lisa was Asia Chief Operating Officer for two legal partnerships, Ashurst, between 2012 and 2018 and Barlow Lyde & Gilbert between 2009 and 2012.
Prior to this, Lisa spent twelve years in CFO roles with Bestford Limited and Bluebell Asia Limited, both retail businesses with significant operations across Asia. Lisa spent three years in Beijing in the 1990's where she held several CFO, Planning and Analysis and Business Development roles for private equity firms. She commenced her career with Ernst & Young in Brisbane in the Audit and National Technical Divisions.
Lisa holds a Bachelor of Commerce from the University of Queensland and is a Member of the Institute of Chartered Accountants in Australia.
Dr Zoë Fortune
CEO
City Mental Health Alliance Hong Kong
Dr Zoë Fortune is CEO of the City Mental Health Alliance Hong Kong. She has extensive experience in the field of mental health and holds a PhD in Health Services Research from the Institute of Psychiatry, King's College London. A researcher by background, she has held several research positions including leading evaluations of new mental health treatment programs and running multi-country complex evaluations. Her work has been published in several academic journals. Zoe also works on the issue of modern slavery and human trafficking and as the lead of CMHA HK, also works closely with Mind Hong Kong. She is a trainer and facilitator on the Mind HK Mental Health Literacy Training Program.
Angelina Grass-Oguma
Partner
Oliver Wyman
Angelina Grass-Oguma is a Partner in Oliver Wyman's Financial Services practice based in Singapore. She initially joined Oliver Wyman and Company's Frankfurt office and transferred to the Asia Pacific Region in 2003. Angelina is a trusted CEO advisor and has worked with banks, regulators, and multilateral development agencies in Europe, Australia and Asia. She is Oliver Wyman's co-head of India and Southeast Asia, and a member of the Asia Pacific Management team.
Brian Henderson
Chief Operating Officer 
Baker McKenzie
Brian Henderson is Chief Operating Officer for Baker McKenzie, based in Hong Kong.  Brian was born in Belfast and has previously lived and worked in London and Paris. Brian is a qualified lawyer who has spent most of his career in a variety of management roles in the legal sector.
Baker McKenzie is one of the largest law firms in the World with a strong commitment and culture of diversity and inclusion. The firm has published gender diversity targets and has achieved many of them already in Asia. Brian leads local diversity initiatives across 9 offices in Asia, as a member of the Management Committee. He champions the "BakerWomen" committee and established a "BakerMen" team to work with and support them in developing the firm's gender diversity action plan.
Brian is also Co-Chair of The Women's Foundation Male Allies Initiative. The Male Allies are around 30 influential leaders committed to making progress on gender diversity within their organisations and to taking personal actions to promote gender diversity. We believe by opening our doors to everyone, we can benefit from the best talent. By driving concrete actions that create a more inclusive environment, we can become even more effective in everything we do.
Brian is passionate about encouraging men to see gender equity as a priority, an opportunity and a responsibility. He was recognised as the 2017 AmCham Champion for the Advancement of Women.
Angelina Kwan
Managing Director 
Foundation Hong Kong Exchanges and Clearing Limited (HKEX)
Ms Angelina Kwan is currently leading the efforts to establish an independent charitable foundation and most recently headed the Regulatory Compliance function for Hong Kong Exchanges and Clearing Limited. Ms Kwan has extensive experience in Asia Pacific and the United States, in business development, restructuring, regulatory/compliance, as well as investor and stakeholder relations. She started her career at KPMG and has held senior management, committee and/or board positions with the Securities and Futures Commission of Hong Kong, and other multinational companies and financial institutions.
She is currently a Hong Kong Government appointed member of the Women's Commission, the Council for Sustainable Development, the Administrative Appeals Board, and the Lord Wilson Heritage Trust, a Director and Chair of the Audit Committee of the Securities Industry Development Corporation of Malaysia, the Vice-Chair and Director of The Women's Foundation, a Fellow and Member of the Regulatory Accountability Board, Hong Kong Institute of Certified Public Accountants, an Honorary Adjunct Professor of Finance for the Hong Kong Polytechnic University, and serves on a number of other Boards and Committees. She lectures frequently for various international government and regulatory organizations as well as course providers.
Ms Kwan is a Certified Public Accountant in the United States and Hong Kong and a graduate of the University of Southern California. Her MBA is from Pepperdine University and LLB from the Hong Kong University and Manchester Metropolitan University
Janine Manning
Executive Coach & Facilitator
Specializing in Career Strategy & Personal Branding
Janine is an experienced executive coach and facilitator with a speciality in personal branding for individuals and corporate teams. She has over fifteen years of global business experience and seven years of coaching and facilitating corporate clients in Australia, New Zealand, United Kingdom and throughout Asia.
As Director of Roar Coaching Janine delivers bespoke coaching and facilitation programs that enable strong and sustainable results in the area of self-actualisation, career strategy, and personal brand mastery. Janine is also an experienced panelist and moderator and has delivered presentations on personal branding to audiences in-person and through audio and video conferencing.
Janine is an Accredited Business Partner of Walking TALL International, a global personal brand program that aims to maximise the investment in the corporate personality through the enablement and engagement of an organisation's people. This is third party facilitation program tailored by Janine for the Asia market.
Janine holds a Bachelor of Commerce from Curtin University of Technology in Australia, an ACC Certification with the International Coaching Federation (ICF), a Lambent International Coaching
Certification (ICC, EQA EMCC) and is a certified Neuro Linguistics Programming Practitioner.
Anna-Marie SLOT
Ashurst, Partner and Global Head of High Yield
Anna-Marie is listed as a leading individual for debt capital markets and high yield in Hong Kong in Asia Pacific Legal 500 and IFLR 1000 and recognised as a band 2 ranked leading lawyer in Chambers Asia-Pacific. She has been shortlisted for Securities Lawyer of the Year at The Asia Legal Awards 2017 and Best in Capital Markets at the Euromoney Asia Women in Business Awards 2015, 2016 and 2017. Anna-Marie and her team have also been shortlisted for Law Firm of the Year: High Yield at The Asia Legal Awards 2017.
Anna-Marie has extensive experience advising banks and other companies in a wide range of corporate finance and securities transactions, including high-yield debt offerings, green bonds, tender offers, debt buybacks, refinancings and securities transactions, such as Rule 144A and Regulation S debt and equity offerings, as well as mezzanine debt investments and senior credit facilities. Her practice also includes advising companies on US securities law matters.
Prior to joining Ashurst, Anna-Marie worked in London and Hong Kong at a leading international law firm headquartered in the US. She has also worked in both New York and London for a major New York law firm.
Rudi H. Spaan
President & CEO
AIG Hong Kong 
Rudi H. Spaan serves since October 2014 as President & CEO, AIG Hong Kong and since July 2016 additionally as Head of Country Operations Hong Kong, Taiwan, Australia and New Zealand. Rudi is a 25 year AIG veteran who has spent the last 23 years in Asia holding several country management positions in Singapore and Taiwan and prior to that, regional underwriting positions in South East Asia. In addition to the above positions Mr. Spaan also serves as a Director on the AIG Hong Kong Board, the AIG Asia-Pacific Board in Singapore and AIG Australia Board.
Anna Thompson 
Director Flight Operations
Cathay Pacific Airways
Anna Thompson commenced her employment with the Swire Group and Cathay Pacific in 1990 and has since held a wide range of managerial positions in both Hong Kong and overseas, including General Manager South East Asia and General Manager Aircrew in the Flight Operations Department.  She was also seconded to Cathay Pacific subsidiary Air Hong Kong as Chief Operating Officer.  She was promoted to Director Flight Operations in 2015 and is the only female executive in the senior management team at Cathay Pacific.
Anna studied at Oxford University where she graduated with a BA in Philosophy, Politics and Economics. She has one daughter.
Lucy Werner
Google, Industry Leader Finance and Travel 
Lucy Werner is responsible for leading Google's Finance and Travel strategies for pan Asian clients based in Hong Kong, focused on expanding these clients digital transformation strategies and accelerating innovation.  
Lucy joined Google in January 2015. Her career prior to Google included leadership roles at Kenshoo across Asia Pacific and in the USA at Spruce Media where Lucy was the Chief Operating Officer (a Facebook PMD partner) and at adBrite where she served as the Vice President of Sales, Marketing and Business Development where she built the largest independent ad exchange.  
Lucy has also held several leadership roles in Finance at JP Morgan, Merill Lynch and Deloitte. 
Lucy holds an M.B.A from Harvard Business School a Bachelor of Commerce and CPA certification from the University of Cape Town.
Clarence Yang
Director - Executive Office
Blackrock
Clarence is Chief of Staff to BlackRock's Asia-Pacific Chairman and Head of the Strategic Partner Program.  He is responsible for special projects, development and execution of enterprise solutions for clients, as well as major cross-functional initiatives.

Prior to this role, he was a member of the Asia-Pacific Strategy & Corporate Development team and before that he served as BlackRock's Head of Corporate Governance & Responsible Investment Asia ex-Japan.  In this role, Clarence was responsible for integrating environmental, social and corporate governance (ESG) into investment and risk management processes for the regional equity investment team.

Clarence's service with the firm dates back to 2005, including his years with Barclays Global Investors (BGI), which merged with BlackRock in 2009.  At BGI, he was responsible for voting and engagement in relation to UK and European investee companies.  In 2008 he was recognized as a Rising Star of Corporate Governance by the Millstein Centre for Corporate Governance.

Prior to joining BGI in 2005, Clarence worked for Greenwich Associates as a corporate finance research associate.
Clarence also currently serves as a member of the Board of Governors for The Women's Foundation, a non-profit organization dedicated to improving the lives of women and girls in Hong Kong.
Clarence earned a BSc degree in economics and philosophy from City University in 2000.
Celebrating Women in the Workplace giving back to marginalised women in Hong Kong.
What you donate for your seat at the event is totally up to you!
We wanted this event to provide value not only for those in the room but for those who would never imagine they would have the life that so many of us are living. So many lives of Women in the Corporate world in Hong Kong have been influenced and better for their interaction with The Women's Foundation (TWF) and so, we want to give back! TWFs Financial Literacy Programme for marginalised women was launched in 2011. This was followed by their Employability Training Programme which launched in 2014.  In addition to financial literacy training, the Employability Training Programme further equips participants with employability and life skills.  Drawing on a holistic, high touch and personalised approach to empowerment, the aim is to encourage participants to achieve greater economic independence and a better quality of life for themselves and their families.
100% of proceeds from the ticket donations will go to The Womens Foundation Financial Literacy Programme.
Please dig deep and help with wonderful cause.
Purchase your ticket here.